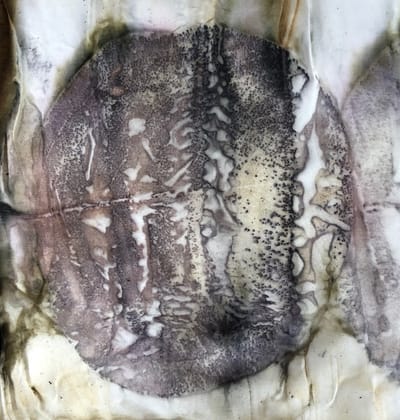 Journey: The Ever-Evolving Story about the Bundles

The idea to include bundles in my work came during a moment I had while teaching a workshop on eco-printing at fellow artist Harriette Tsosie's studio in Albuquerque. We were wrapping silk, plant material and rusty bits in tight bundles to extract the pigment out of the items and imprint them onto the silk. This is done by steaming the tightly wrapped bundles. After steaming a batch we set them on a big white canvas so they could cool down before we unwrapped them. When the bundles were cooling on the canvas I notice how striking the composition looked. They were like a newborn bundled up in a blanket, a gift waiting to be unwrapped, a medicine bag and a secret under protection and never to be revealed. It was a powerful moment of inspiration that I'll never forget.
A year or so later a friend told me about an old story between the Navajos and the Hopi that involved three sacred bundles. The Navajos had given three sacred bundles to the Hopi to hold as a truce in exchange for helping the Navajos in obtaining freedom from being imprisoned at Fort Sumner. The Hopis helped the Navajos to escape and they still have possession. According to the story the three bundles are still around and keep in three Hopi family homes.
The use of the bundles has also opened more connections in my life which in turn have further influenced my work. It keeps evolving into something bigger that it reminds me how much power art can have. As part of the ritual, I bless each piece that it protects its new home.